We are very lucky to have Bike Taupo as one of our major strategic partners.
Bike Taupo is a cycling advocacy group who aim to promote cycling as healthy, environmentally friendly and convenient form of transport and recreation.  They build and maintain awesome mountain bike tracks and have energetically developed a network of about 200 kilometres in the Taupō region since the groups formation in 2002.
Bike Taupō's MTB tracks are well renown and accredited by the International Mountain Bike Association (IMBA) as a Silver Ride Centre, the first in NZ. This confirms our MTB tracks are world class. Most tracks can be ridden year round as the free draining pumice soil surface means that even in wet weather there is normally little or no mud.
Craters MTB Park is located 10 minutes north of Taupō in the Wairakei Forest. When driving north from Taupō turn left on to Karapiti Road and the main car park is 500m up on the left. Alternatively the park can be accessed by parking on the grass opposite the big helicopter and riding back across SHW5 and up Inwards Goods which is to the left of Karopiti Rd. There is a third access beside Wairakei Drive about 500m back towards Taupo on the western side of the road which enters the forest near the start of Bumble Bee/BBC and SH Fun.
Please note that all users of Craters MTB Park must be a member of Bike Taupo. There are annual and visitor options, you can join online or visit a local cycle shop, or the Hub Kitchen Cafe.
If you'd like to purchase a map to plan your trip to Craters MTB Park  please visit our online shop  any  local bike shop or the Hub Kitchen Cafe.
Visit the Bike Taupo Website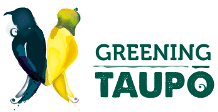 We value the contribution that Greening Taupo make to Wairakei Tourist Park as another of our significant strategic partners.
Greening Taupō is an opportunity for Taupō residents and businesses to participate in a community conservation initiative
'Building healthy neighbourhoods by increasing the greenery in our community and promoting green urban development is good for people, business and the environment.'
The concept for Greening Taupō arose as a result of vision and discussions between Project Tongariro, the Department of Conservation and Wairakei Golf & Sanctuary who believed that a collaborative organisation could take conservation to the next level in the Taupō community. The goal is to replicate the intensive conservation work occurring within the Wairakei Golf & Sanctuary into the surrounding community. The objective of Greening Taupō is to improve the Taupō environment for people and native wildlife and will involve undertaking restoration planting and pest control to create ecological corridors and increase the number of native birds. Particular attention will be focused on access routes to and from Taupō that will also help create a sense of arrival for Taupō.
Visit the Greening Taupo Website